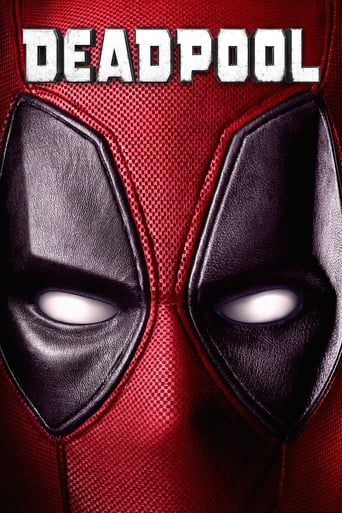 AD:This title is currently not available on Prime Video
Deadpool (2016)
AD:This title is currently not available on Prime Video
Deadpool tells the origin story of former Special Forces operative turned mercenary Wade Wilson, who after being subjected to a rogue experiment that leaves him with accelerated healing powers, adopts the alter ego Deadpool. Armed with his new abilities and a dark, twisted sense of humor, Deadpool hunts down the man who nearly destroyed his life.
...
Watch Trailer
Show More
Cast
Similar titles
Reviews
Overrated total stupid crap!!! Ridiculously UN-FUNNY & DEADPOOL is DEFINITELY the worst created super hero EVER!!! A joke a silly spoof of MUCH BETTER IN FACT BRILLIANT characters such as DEADSHOT played BRILLIANTLY & with heart by the legend WILL SMITH & DEATHSTROKE!!! DEADPOOL is boring Annoying crap & one of the worst films I've ever seen!!! My god & people hate on the BRILLIANT SUICIDE SQUAD??? absolute idiots!!!
More
One thing that is important to remember is that this is an R rated comedy first and an R rated action movie second with super "hero" syrup all over and inside its crevices.If you weren't a fan of the first one, well I guess it depends why but DP2 probably won't tickle your jimmies. There is all the swearing, brutal violence, blood, dismemberment, jokes, irreverence and meta-references that you would expect. Every scene with a serious tone is completely cut out by jokes, but this is still a bit more of a movie with plot and characters and motivation and all that sort of jazz. Definitely tried a little harder to make more of a narrative than "guy kills dude to save girlfriend".The stakes are really only relevant to those on-screen. Sure, there might be some larger implications if you really think about it, but they're never stated. The implications that are stated are small time, but that makes the stakes personal and better for a plot involving a bunch of selfish characters.Its also nice to have a movie that doesn't take itself seriously in a time where most blockbusters with ridiculous premises are also trying to be like "BUT THIS IS REAL LIFE!"Its more of what was successful. The same dish, but they just changed the presentation. That isn't a bad thing.
More
When Ryan Reynolds originally played dead pool in that wolverine movie I saw flashes of excellwnce, I have see all of Ryan Reynolds movies (Blade Trinity and 'Coolege' being the most obvious) and was screaming for a film to be made which was true to dead pool using Ryan Reynolds, i don't think they could have done the character any better justice, the films awesome, funny and simply true to character!!!
More
Deadpool was a movie was a movie I was never able to watch. But, when the credits rolled in, I was ready to see the Sequel. If you love lots of cussing, funny moments, and just overall great, gruesome action, watch deadpool.
More