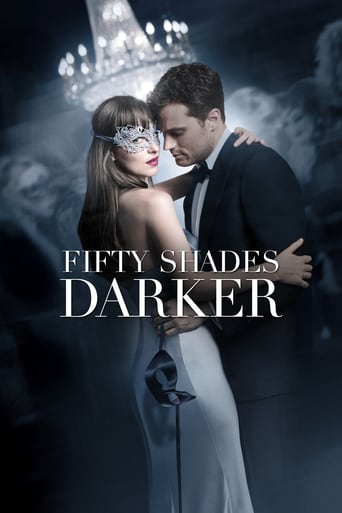 AD:This title is currently not available on Prime Video
Fifty Shades Darker (2017)
AD:This title is currently not available on Prime Video
When a wounded Christian Grey tries to entice a cautious Ana Steele back into his life, she demands a new arrangement before she will give him another chance. As the two begin to build trust and find stability, shadowy figures from Christian's past start to circle the couple, determined to destroy their hopes for a future together.
...
Watch Trailer
Show More
Cast
Similar titles
Reviews
I enjoyed this movie. I know this is not high brow movie fair. This is simply a good time movie. You either enjoy the story (or to some lack thereof) or you don't. But to me this movie was a good (guilty) pleasure. The acting, story and the directing was good. This movie and the next one after it, didn't take it self as seriously as the first one did, I was not a fan of the first one. The last two were good though.
More
As is often the case with sequels (or parts 2, 3 and on) the initial impact of Part One (a fairly substantial examination of the dominant/submissive relationship complete with toys and lots of nudity and intercourse) overshadows the subsequent stories. So it happens with FIFTY SHADES DARKER (or DULLER). New screenwriter this time round (Niall Leonard) adapting EL James infamous Chick Lit and a male director this time - James Foley. Not as strong a team as Round One. But then there are may little things that dim the lights on this outing - less sincere chemistry between the lead couple, too much meandering in wealthy parties, an unshaven Christian Grey (just to keep up with the styles) and the addition of some unsavory characters who attempt to add tension but without enough back story to make it work.The plot - Christian (Jamie Dornan) and Ana (Dakota Johnson) decide to rekindle their relationship, except this time there are no more rules or punishments. As they begin to get used to their newfound relationship, Christian's past (fifteen prior women, childhood abuse, a nasty sordid affair (Bella Heathcote) and the threat of a strange woman (Kim Basinger) begins to haunt Ana as Christian struggles with his innermost thoughts. There is competition for Ana from her new boss (Eric Johnson) that provides a cliffhanger at the end of this far too long film. Gone is the novelty of the Red Room and sadism and life seems to be settling into ho-hum. Maybe things will pick up in the third installment...Grady Harp, March 18
More
Why such hate for these films - i think they are perfectly erotic and the sex scenes are thrilling .... definitely a guilty pleasure!!!
More
Movie Review: "Fifty Shades Darker" (2017)Universal Pictures presents the successor to their 2015 smash erotic-thriller "Fifty Shades of Grey" directed by female director Sam Taylor-Johnson, who made way for routinized-thriller-director James Foley, known for "The Corruptor" (1999) starring Mark Wahlberg and Chow Yun-Fat, who brings stability to rocket-shacking relationship between media billionaire Christian Grey, hardly stripping off is boyish consumption, nevertheless under a convicted portrayal by actor Jamie Dornan becomes the title-inflicted main character a screening force to succeed in re-entering his bond to former-student, fairly-hard-working female lead Anastacia Steele, who had been coupe-indulgently be cast with actress Dakota Johnson, who shares everything in her powers to let "Fifty Shades Darker" succeeds its predecessor in terms of building cliffhanger situations with revolver-pulling ex-girlfriends, a Mrs. Robinson-typed in character of Elena Lincoln by shown-off dignified Kim Basinger getting publicly humiliated and fired Ex-bosses with trigger-happy minds in order to attract high-society-loving audiences in super-glossy visuals and a pop-striking soundtrack towards pain-inflicting premonition of a wishful conclusion.FAZIT: Picture approved (intriguing) © 2018 Felix Alexander Dausend (Cinemajesty Entertainments LLC)
More