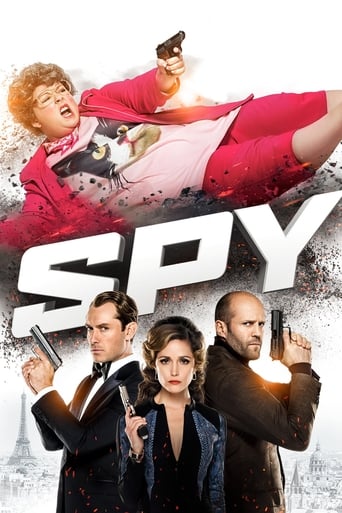 AD:This title is currently not available on Prime Video
Spy (2015)
AD:This title is currently not available on Prime Video
A desk-bound CIA analyst volunteers to go undercover to infiltrate the world of a deadly arms dealer, and prevent diabolical global disaster.
...
Watch Trailer
Show More
Cast
Similar titles
Reviews
This movie makes me laugh everytime. Imo Melissa's best. Alison is soo funny. Miranda too.I wish it took more money at cinema so we could have a sequel.Id love to see Rebel Wilson join the cast..
More
Never seen or heard of this film before and I found it hilarious in parts and a great watch
More
The problem with this film is that both the star and director made it under the misapprehension that swearing a lot is funny by itself so have therefore seemingly dispensed with putting any effort in when it comes to actually constructing comedic scenes and delivering punchlines. Relying on famous faces saying "fuck" every five seconds loses any impact quite quickly and stops being funny soon after. That said, Jason Statham sends his hard man persona up quite nicely and the film picks up whenever his on screen but its little and far between.The film is also extremely violent for a comedy - with several minor characters suffering quite horrendous wounds and deaths in the "name of fun". Having a character suffer multiple gun shot wounds, stabbing a woman in the hand and having a man have his throat melt after drinking acid may be funny to director Paul Feig but he doesn't have the skill nor the competence to handle "Tom & Jerry" violence and misjudges the tone of the film completely. Is someone throwing up on a dead man really the height of comedy?Finally, their is an underlying tone of racism (offensive Italian stereotypes, racist language etc) throughout that arguably leaves a worst taste in the mouth than the aforementioned acid.
More
I could t stop laughing. It's raunchy, sort of unpredictable in a predictable way, and has some of the best one-liners I've seen in decades. Watched like 6 times!
More