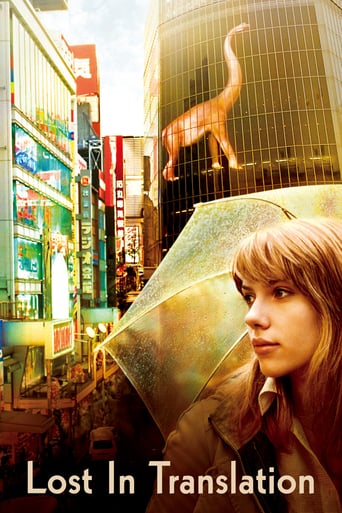 Watch Now
Subscription

Watch on Starz

Watch on Showtime

Watch on Freevee
Rent / Buy
Buy from $14.99
Rent from $3.99
Lost in Translation (2003)

Watch Now
Subscription

Watch on Starz

Watch on Showtime

Watch on Freevee
Rent / Buy
Buy from $14.99
Rent from $3.99
Two lost souls visiting Tokyo -- the young, neglected wife of a photographer and a washed-up movie star shooting a TV commercial -- find an odd solace and pensive freedom to be real in each other's company, away from their lives in America.
...
Watch Trailer
Cast
Similar titles
Reviews
Purely Joyful Movie!
More
While it doesn't offer any answers, it both thrills and makes you think.
More
A great movie, one of the best of this year. There was a bit of confusion at one point in the plot, but nothing serious.
More
Like the great film, it's made with a great deal of visible affection both in front of and behind the camera.
More
This film is brilliant. You literally can lose yourself in it. So well acted and with a great soundtrack. I could watch it again and again.
More
That has depth and sophistication. Somehow it is not as good as the sum of its parts and partly racist, but perhaps comically so if such a thing is possible. It is the director's sole watchable film so enjoy.
More
I bought this movie from Goodwill and two bucks and that is all it is worth. The movie just drags on and on. There are some nice visuals of the Tokyo night life but I didn't feel any connection with Bill Murray or Scarlet Johannson or any of the Japanese characters. Just a boring movie about a bored movie star. I kept fast forwarding through the movie hoping it would have some redeeming qualities, but no.
More
I love this movie. I watched it again after many years. I still love it. Perhaps my best movie ever. About Love and Life and a little bit about Japan and being lost in translation. It makes me feel so many emotions. I reminds me of my life and a life i never had. Thank you Sofia for making it! Please everyone watch it.
More