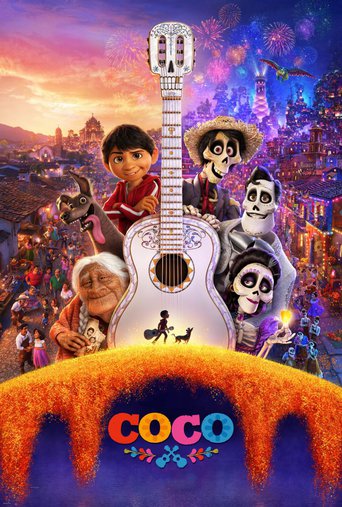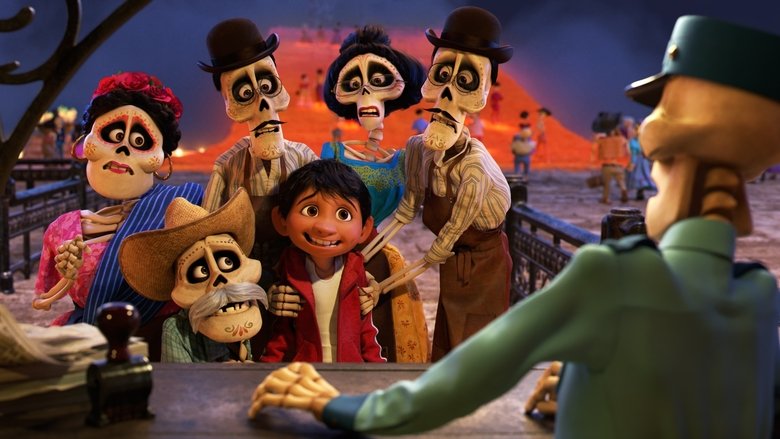 AD:This title is currently not available on Prime Video
Coco (2017)
AD:This title is currently not available on Prime Video
Despite his family's baffling generations-old ban on music, Miguel dreams of becoming an accomplished musician like his idol, Ernesto de la Cruz. Desperate to prove his talent, Miguel finds himself in the stunning and colorful Land of the Dead following a mysterious chain of events. Along the way, he meets charming trickster Hector, and together, they set off on an extraordinary journey to unlock the real story behind Miguel's family history.
...
Watch Trailer
Show More
Cast
Similar titles
Reviews
Absolutely Fantastic
More
The story, direction, characters, and writing/dialogue is akin to taking a tranquilizer shot to the neck, but everything else was so well done.
More
This movie is so crazy good. What an achievement. All heart. I cried throughout and if it wasn't 2 am I'd totally call my mom to tell her I love her. Much better then most animated big hits. Not only that it is extremely heart warming, the story is well crafted and enjoyable. Wow.
More
I am a huge fan of animation films. Whenever I feel bad or in the need of a friend, I choose an animation film and watch. After I finish it, I feel recharged and energetic. "Coco" has been on my list for a very long time, and finally I have decided to watch it last night. This was one of the best decisions I have taken for some time. This morning I woke up smiling and, so far, I am having a very good day. This is all because of this beautiful animation film. "Coco" is produced by Pixar. When you see this name, you should probably think about; Toy Story series, Cars series, Ratatouille, The Incredibles, Finding Nemo, Monsters, Inc, Monsters University, Inside Out, Up and WALL-E. All these films have a classic story wrapped around an emotional content. In my opinion, this emotional content is the trademark of Pixar made films. In these animations, almost all the time, you hear beautiful music, witness unbelievably creative visual effects, bright colors and powerful voice cast stars, but the story is almost always a classic one and the weakest point of the chain. This, however, doesn't apply for "Coco". "Coco" has an original story as well as all the other features I have counted above. This is the reason why it has won two Academy Awards, Best Achievement in Music Written for Motion Picture (Original Song: Remember Me) and Best Animated Feature Film, and while I am writing this review, it is the 63th best film on IMDB's top 250 films. "Coco" is directed by Lee Unkrich and co-directed by Adrian Molina. Lee Unkrich is also known as the main director of Toy Story 3 and co-director of Toy Story 2, Finding Nemo and Monsters, Inc. "Coco's" beautiful story is also written by him. "Coco" has a runtime of 105 minutes and grossed up to $807 Million against a budget of $175-200 Million. Just by looking at this huge budget, you can understand the importance of animation films for the cinema industry."Coco" is born out of the original idea of Dia de los Muertos (Day of the dead). This day is celebrated in Mexico between October 31, and November 2, every year. The idea is to remember the dead in the family. People go to cemeteries, they build private altars containing their favorite foods and beverages. In the film, during this period, deceased watch their relatives while enjoying the foods and drinks. It is also believed that when a deceased person is forgotten by everyone, only then he truly dies. So, the true meaning of death is when you are forgotten by your family, friends and loved ones. The film opens with Imelda's husband leaving Imelda and his 4-year-old-daugter "Coco" to make a career in music. Since then, this man is the most hated person in the family and music is forever forbidden. To survive, Imelda starts making shoes and this becomes the family's official business throughout the generations. After many years, great-great grandson of Imelda, Miguel, at the age of 12, secretly dreams of being a musician finds out that his great-great grandfather managed to become a worldwide famous musician. When this family secret is revealed to him, he goes to the mausoleum of his great-great grandfather to borrow his guitar to perform in the talent show; there he accidentally enters in the land of the dead and starts to seek for his great-great grandfather to get his blessing to become a musician. As an additional note for the film, dead are shown as skeletons and they have colorful drawings on their faces. I enjoyed the depiction of the dead people very much. They seem to go on living their lives in pretty much the same way.In Pixar films, you get to receive a lot of meaningful messages. Those messages are generally universally known. This rule doesn't change when it comes to "Coco" either. It hides the message of self-trust. It reminds you to keep going after your dreams no matter what. There will always be people who will try to bring you down, but if you keep believing in yourself, you will always get what you want. Thanks to these motivational messages, Pixar films always hides extra boost for the audience, in them. When Miguel enters in the land of the dead, everywhere is as colorful as a rainbow. This contra belief creates and amazing ambience and atmosphere for the film. Death is believed to be a sad thing, but those bright and colorful and happy cities of the dead, prove this concept wrong. "Coco" is also praised for respecting the original traditions of Mexico. The film shares its knowledge about this culture. Just like any decent film, "Coco" follows a story with beginning, developing and ending. There is absolutely no difference between animated and non-animated films in the means of story anymore. For all these reasons I have mentioned above, "Coco" is one of the most beautiful animation films I have ever seen.
More
One of the best animated movie by pixar. Very realistic character depiction. Excellent color editing. Emotional scenes were portrayed well. Fun, music, family, drama and everything else together. Kudos to the creators of this film. Excellent.
More
I like this movie, it's very good movie. I like this movie, it's very good movie. I like this movie, it's very good movie. I like this movie, it's very good movie. I like this movie, it's very good movie.
More