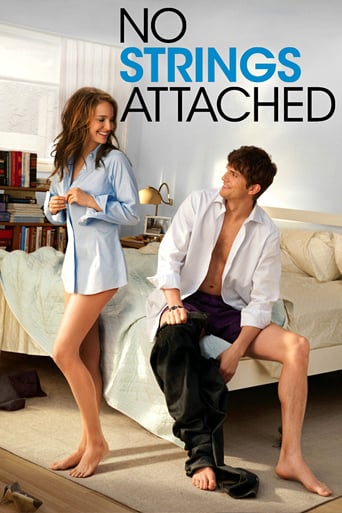 AD:This title is currently not available on Prime Video
No Strings Attached (2011)
AD:This title is currently not available on Prime Video
Emma is a busy doctor who sets up a seemingly perfect arrangement when she offers her best friend Adam a relationship with one rule: No strings attached. But when a fling becomes a thing, can sex friends stay best friends?
...
Watch Trailer
Show More
Cast
Similar titles
Reviews
Memorable, crazy movie
More
Excellent but underrated film
More
This is one of the best movies I've seen in a very long time. You have to go and see this on the big screen.
More
By the time the dramatic fireworks start popping off, each one feels earned.
More
Emma Kurtzman and Adam Franklin, who initially met over an awkward encounter as teenagers, and then again multiple times over the years, never managed to stay connected. Flash forward to present day Los Angeles where she's a doctor and he's a TV production assistant, only this time they engage in a casual sexual relationship and make a pact to keep it from developing into anything other than that...which naturally leads to complications. Portman and Kutcher are likable enough, and the premise creates all sorts of comic possibilities, but there aren't as many laughs as there should be, too many addlebrained supporting characters, and too many unnecessary and distracting subplots that take away from the central theme of the film. **
More
..say what you will.. these guys are very good... it's the little repeated moments that prove the point.. and to be sooo young, and way above immensely talented, and to top it off standout beautiful.. it will be no questions a constant uphill struggle to keep your head screwed on on straight.. the film is fun (no wow writing credits) but the guys chosen to speak the lines well return their rewards.. it's one of the basic rom-coms in every sense of the term.. what makes this one better beyond the majority plays out on screen, as all these guys are just really fun to watch.. it's always a big debate.. casting or script... this one is an easy choice
More
Emma and Adam keep bumping into each other for years. Finally they decided to become sex friends. However, things get complicated as Adam falls in love with her. The idea of the movie is as wrong as the rest of the movie. The performances seemed so weak and immature, that could only have fitted for a low quality TV movie. The characters were simply dull and Emma was too complicated. The story line was messed up too, with the fast forwarding simply unnecessary, the extra romantic stories dull and the romance too complicated. There was no depth, no story and no interest in the movie throughout it's whole length. And so, I give no strings attached a 2 out of 10. It actually makes friends with benefits seem way too good now.
More
No Strings Attached is an awful movie with a cliché romantic comedy storyline that's been done many times before.Sadly this movie had a great cast and a legendary comedy director (Ivan Reitman) attached,but they didn't get a great script to work with so all this combined talent was sadly put to waste,There was great chemistry between Natalie Portman and Ashton Kutcher,but it wasn't enough to make up for the fact that none of the characters are very likable and the movie is simply not funny.It dosen't contain enough humour for the man to enjoy,or an interesting romance for the woman to enjoy,I would not recommend No Strings Attached to anyone. Two old friends embark on a casual relationship,but both struggle to keep a check on their emotions Best Perfornance: Natalie Portman
More